Singer/Songwriter/Producer...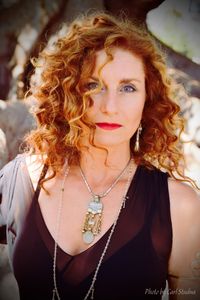 Offering the debut of her first solo production, Wood and Snake, Melanie blends her love for timeless music and song from cultures around the world with rhythmic instrumentation that eludes genre.  Lyrics, poetry, and traditional vocal expressions of longing weave themselves into each song, and at times sharply invite the listener into their own psychic world, our world of being human.
   For decades Melanie has explored styles of music and singing whose roots are seated in ancient eras and folkloric and mystical traditions, with lyrics preserved only through oral tradition.  Balkan, Sephardic and Middle Eastern music captured her attention with the often complex vocal styles encompassed in their melodies.  For more than eight years Melanie has been involved in traditional Middle Eastern music as a singer and percussionist, primarily studying Arabic and Turkish songs, along with the tradition of haunting and playful Sephardic music from Medieval Spain.  
   Driven to sing that which wanted to express itself authentically and spontaneously, her first co-production in 2006, Mystery of Souls, infused original world melodies with an intuitive tongue that told stories when a codified language somehow could not.  Co-producing and writing with Marshall Lefferts, the common motivation was to create music that awakened the soul and inspired the listener.
   Wood and Snake, the newest chapter in Melanie's musical journey, infuses her desire to create danceable music with lyrics that speak to the human condition…the longing, confusion, chaos, cherished memories.  The metaphor of Wood and Snake speaks to the high stakes of perceiving reality inaccurately, or not.  Nature indeed is a powerful teacher. Wood and Snake brings together world-class musicians steeped in both Middle Eastern and Western mode and rhythm, producing an intriguing fusion of rare delight.
Wood and Snake CD Release Concert
Previous events
Ayni Gallery Santa Barbara, 216 State St., Santa Barbara, CA
$15